Urban reconstruction groups 17th Century Municipal Police
From May to October, every last Saturday of a month, a group of people attire themselves as the 17th century inhabitants of Luban. Men dress up as local guards and women as early modern burghers. The whole event is a part of a historical tour starting from the Bracka Tower and moving in the direction of the city market. In the heart of the city the men present a rifle drill, after which people move on to the Ship House and back to the Bracka Tower. On the meantime, the beautiful ladies distribute promotional materials.
This project, called Luban's Municipality Police, is being implemented by the city of Luban, Association of Friends of Upper Lusatia and Luban's Archery Team. This idea is endeavoured to revive the city's old landscape and promote the region and its history.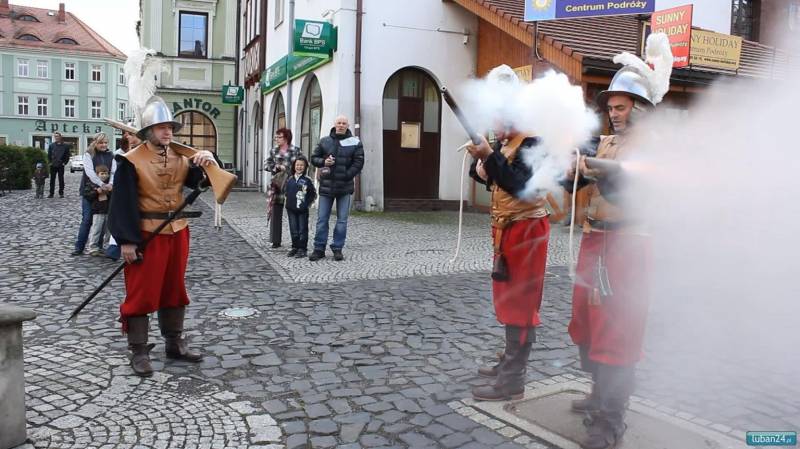 There were many guards around the city in the early modern era. They guarded the gates during the day and night. Typically, every gate was watched over by 1-2 guards. However, in case of a dangerous situation, the number of guards was increased. Those guards were ordered around towers, bastilles and parts of diffensive wall. The guards' money was defrayed of the city's treasure. They received a regular yet small salary. It should be noted that the equipment used by them was owned by the city. Moreover, the city sometimes financed their clothing such as shoes, socks and gloves.
The most basic firearm, they used in the 17th century, was musket with a matchlock. Possibly the white weapon was also owned by the guards. Although their full equipment has not been confirmed in Lubań's sources, people's knowledge is based on other cities experience. The primary arms were known as marion, protective type (helmets). Marions were mentioned in a civic arsenal's inventory in 1620. Soldiers were also hired as security guards in very difficult and threatening times. As a result, they could use their own weapons. In terms of weapons and clothing, city guards were a little different from a simple soldier.


Luban's reconstruction group recapture the city's history during city events dressed up in the 16th and 17th century fashion. In this way, they can incorporate not only in the role of city's guardians but also members of historical productions showing European military stories.